Sale!
Description
The smallest, most ultra light 3-piece Cook System combines the Crux Lite stove and Solo Cook Set.
Set includes: Crux Lite stove (72 g/2.5 oz), 0.6 L (hard anodized aluminum) saucepan with pouring lip and measuring marks (mL and oz), fry pan that doubles as a lid, mesh storage bag and nylon storage bag to store Crux Lite stove.
About Optimus since 1899:
Optimus is a Swedish company that has been manufacturing outdoor stoves for more than a century. At the end of 2007 Optimus was integrated into the Katadyn Group. Since its formation in Stockholm in 1899, Optimus has been developing and improving its products to become the clear first choice of demanding users throughout the world. Openair life is very much associated with activity, movement, and physical endeavour, often struggling with the weather at the same time. Optimus wants to give its users the opportunity of an hour s peace with products that are safe and easy to use.
Specifications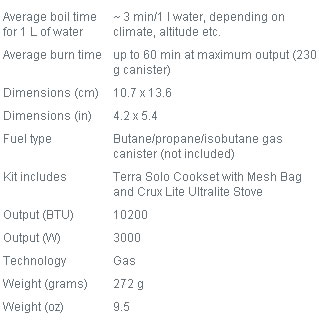 Features
When traveling, the set also offers ample space for a 110 g/4 oz gas cartridge and Optimus Folding Spork!! (not included)
The OPTIMUS CRUX LITE STOVE is equipped with the powerful burner of the Crux making 10,200 BTU output, but even lighter in weight as it does not have a folding mechanism. At only 72 grams (2.5 oz), our OPTIMUS CRUX LITE is one of the lightest stoves in the world. Includes burner with valve and stuff bag. Measurements: L 71 mm x W 57 mm x H 56 mm. Average burn time: up to 60 minutes at maximum output (220 g gas canister – cannister not included). Average boil time for 1 L of water: as little as 3 minutes depending on climate, altitude, etc.